Chess State Team Champions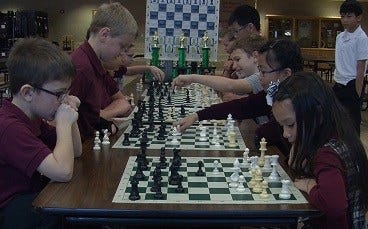 Posted By: Nolan Crane
If you're in the mood to play chess and want to win, stay away from the students at North American Martyrs School. Their chess team is once again the state team champions. Here's tonight's "Excellence in Education" report.
These students might be young but they have already become a dynasty. The school has won the state team championship for five years in a row with Saturdays victory.
During the school's mass the priest recognized all of the members of the chess team for not only winning, but sweeping first place in every category and bringing home more trophies.
These students might make winning look easy, but they say it takes a lot of skill.
"You need to think about not just your own perspective for the game, but the opponents perspective and see how they would think of your position and how they would think of their position," says Crispin Corpuz.
"I was undefeated and practice makes perfect," says Danny Le.
The chess team at North American Martyrs School also tasted victory by not only hoisting three first place trophies, but also eating a special chess–themed cake.