Chick-Fil-A set to open October 28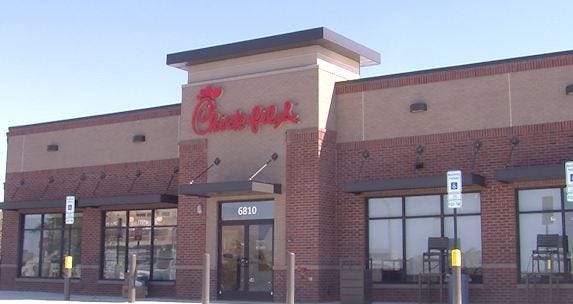 Posted by: Abigail Wood
awood@klkntv.com
The Chick-Fil-A restaurant originally scheduled to open back in August is now ready for business despite setbacks.
"It seemed like every time we got ready to pour concrete it would rain," owner Charlie Colón said. "We just had some setbacks on that front and just kept pushing, pushing."
As a part of the grand opening, Chick-Fil-A is offering a promotion, awarding a free meal once a week for an entire year to the first 100 customers who register Tuesday morning and stay for 24 hours. People are excited about the signature nuggets and fries.
"Honestly, I'm hungry so this works fine," said Shane Bloom of Wilbur. "I would go eat there."
Lincoln woman Miriam Weber agreed.
"It's all about that sauce," she said. "I have eaten there in Des Moines and Omaha and they've always had great service."
Chick-Fil-A's reputation precedes it, and Colón said he expects business to reflect that respect.
"Every single guest that walks through that door every day, we have an opportunity to make their day a little better," he said. "That's why I think we have such a great following, have such loyal customers, and really have employees that pour into that mission and purpose every day."
The store opens to the general public at 6:30 Wednesday morning. The ribbon cutting at 9 will have special guests Herbie Husker and Lil' Red.