Church hosts suicide prevention event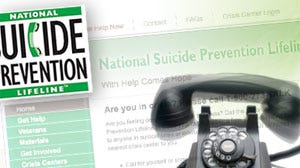 Posted By: Jenn Hatcher
jhatcher@klkntv.com
Since Jeff Macht's daughter attempted to take her own life, three years ago, he's become an advocate for suicide prevention.
Macht says, "It breaks my heart to think that another parent has to go through that or another teen has to go through that time of hurting, that they, feel like they have to take their own life."
His daughter survived and after battling the demons, the family started traveling the country giving suicide prevention training, through the Yellow Ribbon Program.
Macht shared his story with the community at Sheridan Lutheran Church, Wednesday night.
Pastor Greg Bouvier says, "This is an opportunity for folks to realize that surrounding yourselves with loving folks, with folks that will hold you accountable, in terms of the choices that you make that really is a part of the solution for people who find themselves desperate."
The advice shared by Macht can be found at http://yellowribbon.org/.
The Centerpointe Crisis Response helpline is (402)475-6695.