City announces proposed changes to mid-biennium budget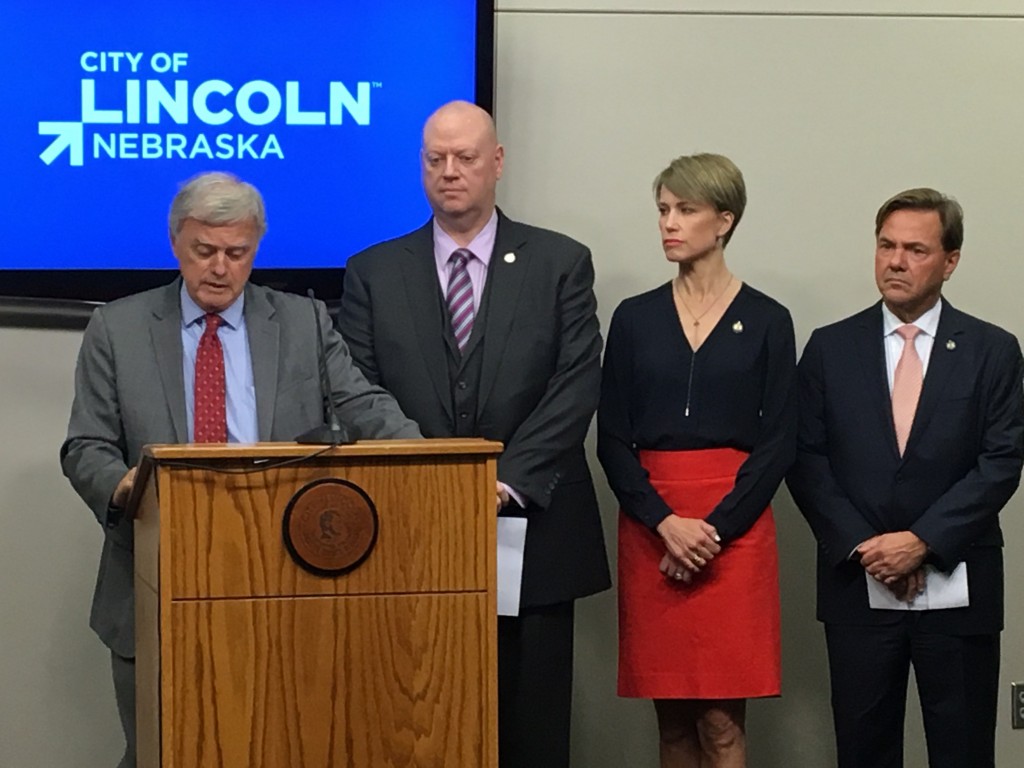 Courtesy of the City of Lincoln:
FOR IMMEDIATE RELEASE: August 15, 2017
BUDGET RESOLUTION CALLS FOR LOWER TAX RATE, NEW OFFICERS AND FUNDING FOR FIRE APPARATUS
Mayor says bipartisan cooperation was key to agreement
Mayor Chris Beutler today announced that an agreement with City Council members has resulted in a 2017-18 City budget that will lower the City property rate, add six new Police Officers and establish an annual budget for fire apparatus. The mid-biennium budget resolution will be introduced at the City Council meeting Monday, August 21, with the public hearing and vote scheduled for Monday, August 28. Both meetings begin at 5:30 p.m.
Because of the recent property revaluations, the City Finance Department said the City stood to gain about $4.5 million in the next fiscal year, which begins September 1. The budget resolution calls for using just $1 million, returning $3.5 million to taxpayers.
"I originally asked the City Council members for a $1.5 million increase, and if partisanship had been an issue, most would have expected the Council to support my budget recommendation," Mayor Beutler said. "But today I am proposing $1 million because Council members and I were willing to compromise. In short, we found common ground and made an agreement that benefits everyone in the community. The property tax levy will drop nearly five percent while adding more police officers and replacing dangerously worn out fire apparatus. This is a win for the kind of common sense leadership that is in short supply these days in government and politics."
The budget resolution proposes a drop in the property tax rate by 1.6 cents, dropping the City's levy from 33.4 cents to 31.7 cents. It's the largest drop in the City's tax rate in over a decade.
Out of every property tax dollar paid by Lincoln homeowners, only 15.7 percent goes to support City government. An individual's total property tax bill is determined by the budget actions of all governmental agencies.
Mayor Beutler said adding six new Police Officers at a cost of about $500,000 will help to ensure the crime rate stays low and that the Police Department has the resources to serve a growing City.
Beutler said the budget also addresses an immediate need in Lincoln Fire and Rescue by establishing a yearly budget of $500,000 to replace fire engines and trucks.
"The City has not regularly budgeted funds to replace fire engines and fire trucks on an annual basis since the late 1990s," Beutler said. "Since that time we have either used one-time money or borrowed to try to replace fire vehicles. Those strategies haven't allowed us to keep pace with the replacement need. By budgeting $500,000 annually, we can begin to deal with the problem every year. This is just a start. We will have to devote more money to replacing our emergency response vehicle fleet. It is a critical element in keeping families safe, and more funding will have to be found in the future."