City council discusses Great American Sports Park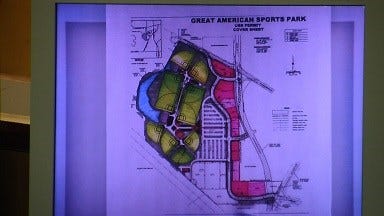 By: Jenn Hatcher
jhatcher@klkntv.com
A sports complex near Oak Lake is still all discussion.
The city council held a public hearing on the topic Monday evening.
Eight different agenda items were connected to the possible Great American Sports Park.
Founder of Lincoln Dodgers Baseball, Bob Bade, sees the need for more softball and baseball fields in the capital city.
He says, "What you currently find is scrambling to come up with fields to practice on."
The Proposed Great American Sports Park, would be off Sun Valley Boulevard, to the west of Oak Lake.
Presenters discussed, rezoning, future neighboring developments, like hotels and restaurants and paying for this 45 million dollar project would mostly come from private donations, TIF funds and an occupational tax.
"This is a project that is increasing the recreational resources for the city without the city having to pick up the tab," says Wynn Hjermstad, with Urban Development.
No opposition was present at the meeting, but Bade did raise a concern.
The preliminary design has 10 Astroturf fields, he says across the region, very few fields are completely covered in the artificial grass.
Bade explains, "Central Iowa sports is an example, an extremely popular venue to go to but I don't know of one Astroturf field, they probably have 25–30 fields something like that and it's a very popular place to go because it's very very well done."
Officials are currently just looking at phase one, which is the ball fields and parking.
Phase two could include dining establishments, hotels and an indoor practice facility.
The agenda items have moved on to 3rd reading for the next meeting, June 2nd.