City Council to vote on Lloyd Hinkley nomination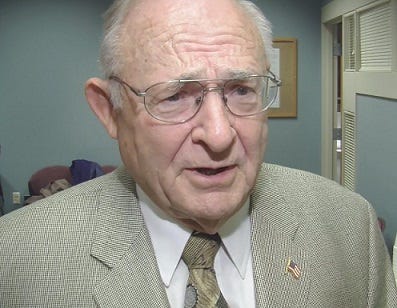 Posted By: KLKN Newsroom
8@klkntv.com
The Lincoln City Council will vote Monday, Dec. 10 on the nomination of former City Council member Lloyd Hinkley to fill the vacant Council seat formerly held by Adam Hornung. Mayor Chris Beutler and City Council Chair Carl Eskridge chose Hinkley from a list of four finalists. Twenty-five applications were received for the seat held by Hornung, who resigned because of a new job opportunity.
Hinkley, a retired Realtor, was elected to the Council in 1961 and served two terms. He has served on many local and state committees including the Lincoln Housing Authority; the Nebraska Real Estate Commission; the Nebraska Real Estate Appraisal Board; the City-County Master Plan Review Commission; the Mayor's Advisory Committee on Hospital Alternatives; the City Congestion Management Task Force; and the City Charter Review Commission. He served on the BryanLGH Foundation for 26 years and is a Trustee to Wyuka Cemetery and Funeral Home.
"Mr. Hinkley not only brings a lifetime of service to our community, but he has continued to be actively engaged in Lincoln through his work and many associations," Eskridge said. "I am confident that he will serve our City with distinction and am grateful for his willingness to serve. I'm also grateful to each of the 25 applicants who considered this opportunity."
Hinkley was nominated as a finalist by Council members Doug Emery, Jonathan Cook and Gene Carroll. Other finalists were Connie Hilligoss, nominated by Council member Jon Camp; Kristin Yates, nominated by Council member DiAnna Schimek; and Scott Stuart, nominated by Mayor Beutler.
The final nominee must receive four Council votes to be elected to the vacant seat. If elected, Hinkley would fill the remainder of Hornung's term. Hornung's seat is one of three at-large Council positions up for election in the spring. Hinkley has indicated that he does not plan to run for the office.
Monday's Council meeting begins at 3 p.m. in the City Council Chambers, County-City Building, 555 S. 10th Street. All City Council meetings are available on 5 CITY-TV, the government access channel on Time Warner Cable channel 5. The meetings also are available through live video-streaming at lincoln.ne.gov.