City Council weighs in on alcohol at youth complexes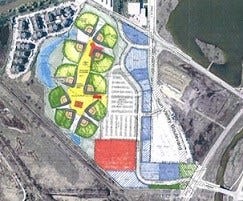 By: Bill Schammert
bschammert@klkntv.com
The city of Lincoln will likely be home to two new youth sports complexes in the near future, but should the city allow alcohol sales at such facilities? That question went before the city council on Monday.
The owners of the future Great American Sports Park are hoping to open by next spring and they want the right to sell alcohol at certain games and events.
"We think there's a way to make it profitable," attorney Kent Seacrest said. "That little extra could be important."
The proposed ordinance would allow alcohol sales with several limitations. For example, no booze could be served if there was even one youth game going on at the complex.
"Just one field of youth closes it all down," Seacrest said.
City lawyers say rule violations would mean an immediate revocation of any liquor license.
Seacrest says the owners need a decision from the city council before the final loan papers can go through, but that decision will be delayed. Councilman Trent Fellers asked for and was granted a one-week delay.
"I like a lot of things I see here," he said. "But I would just like a little more time to look at it."
Fellers says he wants talk more with city staff and attorneys to make sure they are setting the right precedent.
Councilman Doug Emery echoed those sentiments.
"When doing something with possible unintended consequences, I'd rather do it right," he said.
Seacrest says the delay will create some problems, but it won't be too devastating.
The council also listened to proposals from Speedway Properties about alcohol sales and restrictions at a possible new soccer complex southwest of Van Dorn and 9th Street.
One woman at Monday's hearings protested every agenda item that had to do with alcohol sales and the possible new complexes.
"I just don't understand why we're having alcohol in the same thing where there's supposed to be children's sports," Teri Pope-Gonzalez said. "I understand they're talking about games with grown-ups, but grown-ups can act a fool too."
The council is expected to cast a final vote on both issues at next Monday's meeting.