Health advisory issued due to smoke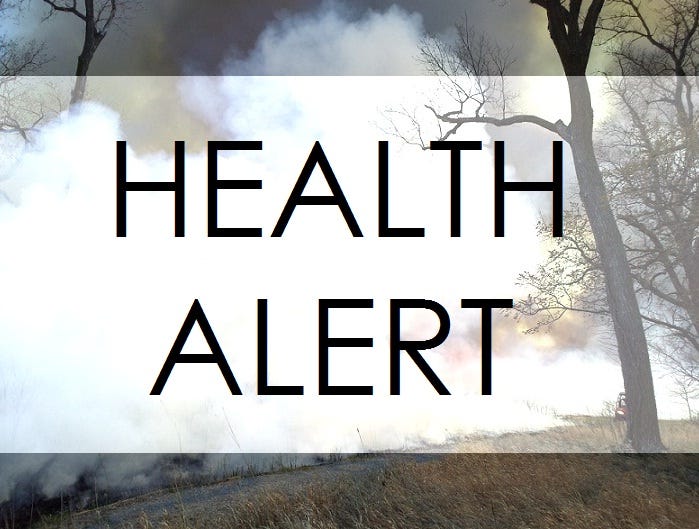 Posted By: Camila Orti
corti@klkntv.com
Due to high levels of smoke from agricultural burning in the Midwest, the Lincoln-Lancaster County Health Department has issued a Health Advisory with concerns that the poor air quality will continue this weekend.
Health Dept. officials say the smoke hovering over the area is likely from Kansas, and it's bad news for Lincoln. The air quality was at a dangerous level Friday morning, more than three times the normal amount.
"I woke up, my eyes were all itchy, I was stuffed up," Lori Rech of Falls City said.
"The smell was really bad, it smells like burnt rubber," Sam Franklin of Lincoln said.
Officials say the haze started moving into town around 5 a.m. Health Dept. officials say a south wind brought the smoke from dozens of controlled burns in the Flint Hills region of Kansas. It caused Lincoln's Air Quality Index to skyrocket above 180.
"That number is normally around 50 in Lincoln," Scott Holmes with the Lincoln-Lancaster County Health Dept. said.
Holmes says these levels should be concerning to everyone.
"Anyone should avoid being out in the air if they're doing physical exercise or exerting themselves, they should not be in this air today," Holmes said.
It was particularly dangerous for people with lung or heart conditions.
"My asthma is really bad and I hate this, I feel like I have a load of bricks on my chest all the time," Franklin said.
It might get worse. Holmes says these grassfires could continue over the next few days.
"These are huge huge areas, much more than local fires for crop reduction and things like that," Holmes said.
According to the Environmental Protection Agency, hundreds of thousands of acres of prairie are burned in Kansas every year to improve ranching land.
People are advised to keep windows and doors closed. In the car, set the air conditioner on "re-circulate." Those who experience difficulty breathing, coughing, tightness in the chest or angina should contact a doctor.
The health department monitors air quality 24 hours a day. The Air Quality Index for Lincoln is updated daily and can be found here. People are encouraged to check the AQI the next few days before doing any strenuous activities outside.