City libraries partner with LPS for new learning initiative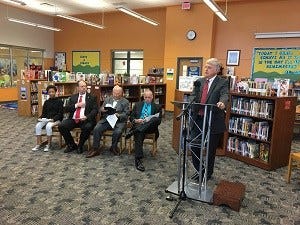 Posted by: Marlenia Thornton
mthornton@klkntv.com
Visolela Adero loves reading.
She's a fifth grader at McPhee Elementary school.
That's one of the three Lincoln Public Schools that's taking part in a new initiative called ConnectED.
It's a partnership between LPS and our city libraries, which was announced Thursday morning.
"Public libraries have long partnered with public schools to help children develop a lifelong love of reading and learning," Lincoln Mayor Chris Beutler said.
The collaboration allows students to utilize the libraries' various resources.
The district introduced Chromebooks last year and now they're being used in classrooms for grades 3 through 12.
Using their student ID numbers, they can access things like homework help, online magazines and other digital tools on the library's website.
"It's going to be seamless for students, so whether they are at school or a library they're going to have access to way more resources than we have," LPS Superintendent Steve Joel, Ph.D., said.
ConnectED was started by President Obama in 2015 and Lincoln is one of 60 cities that have accepted the library challenge.
The other two schools trying it out for now in Lincoln are Norwood Park Elementary and Lefler Middle School.
"This will open up a whole new world for our students in being able to access information right at their finger tips from through different places throughout the community," McPhee Elementary School Principal Betsy Gomez said.
Now anywhere there's an internet connection, learning possibilities are limitless for these young scholars.
The goal is to have ConnectED accounts for all LPS schools by next school year.
It's important to note students without accounts can still access the resources with a traditional library card.