City Mission Needs Help As Weather Heats Up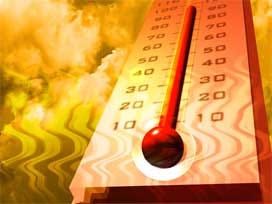 It's hard to find anyone who isn't thinking about the heat, including those who are stopping in to the People's City Mission.
We all know the heat outside is just plain nasty. Now imagine you have no home to go to to stay cool. That's where the People's City Mission comes into play.
"You go from here to walk outside it feels like somebody opened an oven," Shawn Spooner said.
And that's why Shawn Spooner is staying at the People's City Mission. "Probably couldn't survive honestly. You couldn't breathe."
So with temperatures in the triple digits, the crowd at the Mission has increased by about ten percent.
More men than families are stopping in for air, water and a place to sleep.
Pastor Tom Barber tells us keeping up with the crowd is difficult. Not because donations are down, but because the demand is getting higher.
"When we get hot weather like this the cost of it and lack of donations can't keep up with the increase of costs. It can make it pretty tough for the mission," Pastor Barber said.
And that's the reason the Mission is asking for anyone who can to donate bottled water.
Ask Spooner and he knows everyone is doing their best, but he does have one more request.
"People are doing what they can for comofort everybody and that's great but if somebody out there could just turn the air conditioner on outside a little bit I think it would be a lot better," Spooner said.
If you'd like to donate water all you have to do is drop it off at the Mission itself at 1st and Q streets or you can stop by the distribution center.
That's located at 18th and N streets.