Crews working overtime to fill potholes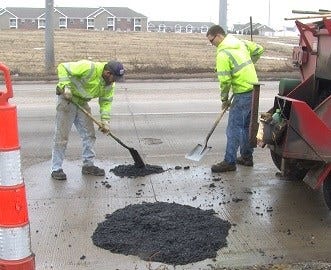 Posted By: Camila Orti
The Lincoln Public Works Department says they filled more than 1,700 potholes on Monday.
It's a problem the city sees every year, but many workers say this winter has been far worse than past years.
"We've gotten a lot of complaints after this last snow, a lot of the freeze/thaw cycles happened and a lot of potholes blew up because of this," Public Works Supervisor Steve Kostner said.
City crews started filling the worst potholes on Friday, and continued their work Monday. At least 50 people were out working to smooth the roads with their asphalt and cement mixture, or "cold mix." That's more than double the 15 to 20 employees normally assigned to repair.
A crew along 84th Street filled around 100 potholes from Cornhusker to Leighton, and that was just in one lane. Some of those potholes were so big they took an entire lane out of commission. Kostner says his team filled one that was 7-by-4 feet and 8 inches deep. All that means bad news for drivers like Lee Young.
"I've blown two tires in my car, one was two weeks ago on 84th, and then another one right up the street here," Young said.
You don't have to look far to see the aftermath- hubcaps can be seen strewn along medians near the larger holes. Young thinks the city needs to increase its efforts to get the problem solved.
"I think right now it needs to be 24/7," Young said.
But Public Works says they're using all the resources they can. On Monday, Mayor Chris Beutler directed the department to shift resources to increase pothole repair in the city.
"Potholes are more than an inconvenience, they can be costly and dangerous," Mayor Beutler said. "I have signed an emergency declaration, which allows for mandatory overtime, and we are preparing to deploy additional resources including Parks and Recreation staff. I urge the public to drive very carefully in the vicinity of the crews who are working to make our streets safer."
No matter how quickly they work, crews say the next snowfall will put them back at square one.
"That'll automatically pop it out because water expands and up comes the cold mix," Public Works worker Ammar Abu-Hamda said.
Once April rolls around, city officials say crews will go back through and fill the potholes with a more permanent mixture they call "hot mix."
Potholes and other non-emergency street problems can be reported in four ways:
• Call the Pothole Hotline at 402-441-7646. If that line is full, callers can use the Neighborhood Hotline at 402-441-6300.
• Use the online form available at lincoln.ne.gov (keyword: pothole).
• Use your mobile phone to send a photo to the City's ACTION center. The free application is available for Android, iOS and Windows Phone devices (search for "Lincoln Action Center"). The message will automatically include GPS (global positioning system) information. This app should never be used while driving, and residents should never put themselves in danger to take a photo for the ACTION center.
• Street problems requiring immediate action should be reported to the Street Maintenance Division of Public Works and Utilities at 402-441-7701
This is the City's second pothole surge this winter. The first at the end of December resulted in the repair of more than 2,000 potholes.