City officials hope to prevent future protests after Occupy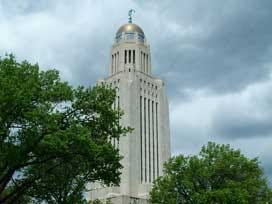 By: Megan Palera
mpalera@klkntv.com
The Occupy Lincoln group had to be off Centennial Mall as of midnight Wednesday morning. All but one protestor left peacefully and now the city is looking at how it can prevent problems like this from happening in the future.
The city and the Occupy Lincoln camp had agreed to vacate Centennial Mall months ago, but since the exiting process didn't go over so smoothly today, the city now plans to make some big changes.
It's one final sweep through Centennial Mall. A helicopter, K-9 units and 45 police officers arresting a lone Occupy Lincoln protestor who captured it all on camera.
"I was in the process of grabbing my things to leave and then they pushed their line, so then I was behind it and they arrested me," said Jeffrey Eggerss. Eggerss and two other protestors were the only ones still camping on Centennial Mall when police came by just after 4 A. M. on Wednesday.
Police say the group was told to leave, but the 22-year-old Eggerss refused. It's what the city of Lincoln had hoped to avoid. "We have treated this group as well or better than any Occupy movement in the entire country," said Mayor Chris Beutler.
Centennial Mall is a public-right-of-way and the Occupy group had every right to camp on it for the past eight months. But things changed when the city announced it planned to renovate the mall starting this month.
The group was given a notice to vacate and that deadline even extended an extra two months. Last week, some group members moved to another public space in town, near 30th and Capitol Parkway, but was later handed an eviction notice.
The Mayor says it's time to find a balance between those exercising their free speech, and what's in the best interest for the rest of the public. "It is my belief that our public spaces must continue to be open to all those exercising their first amendment rights. But our laws are in need of updating," said Mayor Beutler.
Several proposals will be introduced to the city council next week. They include adding Centennial Mall under the definition of a park, and if you want to pitch a tent on public space, you'll need a city permit.