City prepares for more snow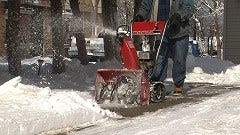 Posted By: Jenn Schanz
jschanz@klkntv.com
After a weekend of winter weather, Larry Nelson is thinking ahead.
He's already clearing way for yet another batch of snow.
Like many in Lincoln, for Nelson, the snow plows are a necessary evil; they help clear the roads, but sometimes, can box cars in.
"I move cars out of the driveway and they come down and do both sides of the road at one time. Which means now I have a mess," Nelson says.
The city says it's hard to win when it comes to snow.
"We are prepared and we're always looking ahead," says City Engineer Roger Figard.
And of course, they're all hands on deck, with a lot of overtime.
There's about 90 pieces of equipment on the streets right now, and we could see up to five inches overnight.
So what about parking?
It's banned on all main arterials and emergency and bus routes, but no ban on residential parking.
Public Works staff say it's just too much of a hassle.
"It takes time to institute a parking ban. Give people notice so they can move their cars and not get ticketed," Figard says.
But it's not only residents and City Works employees affected by the snow.
James Dawson is a mailman; when it snows, he faces an obstacle with or without a parking ban.
There's either large embankments to climb over, or no place to park his mail truck. He says it's the little things that make dealing with the snow, more tolerable.
"You have to be a lot more careful in the streets. When you're driving or when you're walking. So it helps when people shovel, for sure," says Dawson.
As everyone gets ready for more snow, usually we'd see the city laying down anti icing liquid.
But not this time; they say there's still plenty left over on the roads from the weekend.
Click here for more information on the city's snow removal operations: https://www.lincoln.ne.gov/city/pworks/engine/traffic/snow/