City still looking for ideas regarding Pershing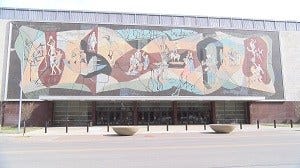 It's been almost three years since Pershing Auditorium closed its doors and Lincoln is still on the hunt for ideas regarding the building.
The city said it has heard several plans for it, but none has been attractive and financially feasible.
"We've heard exciting ideas. We one would like one of those come back with the means to carry it out," City Urban Development Director David Landis said.
The more than 60 year old building has some unique challenges of its own.
It's outdated and needs major maintenance, which means it would be quite expensive to repurpose it.
Lincoln's Urban Development Director David Landis said it could cost $2 million to even tear it down.
The city changed its proposal process to a more open ended one without time constraints.
"This would allow us to move a little more quickly in the event the private sector came to us with an attractive idea," Landis said.
The city said something like a corporate headquarters or a museum would be a use it would consider for the area if it were well thought out and had the money to support it.
Landis said Lincoln is really counting on the private sector to present a good solution.
"The energy at this moment is in the private sector, not the public sector. We said we got a downtown block. We're open and interested in ideas. Step forward and we'll talk about it," Landis said.
Now the library board has expressed interest in the building as well for a new downtown library, but it the city says it hasn't reached a conclusion for a site for that.