City threatens legal action against K2 retailers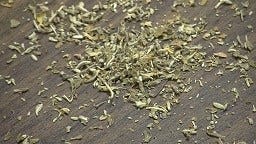 Posted By: Camila Orti
The city is putting legal pressure on retailers to stop selling K2.
K2, otherwise known as potpourri or spice, sent dozens of people to the hospital over the last couple weeks, leading police to seize more than 1,000 packets from local store shelves. The synthetic drug has stayed ahead of the law because producers keep changing the chemicals in it. When smoked, it can be highly addictive and sometimes deadly.
City attorney Jeff Kirkpatrick sent letters to five local businesses earlier this week. The letters say if retailers don't sign an agreement with the city to stop selling it for good, they could face legal action.
"Our purpose was to say this is a dangerous product, we'd like you to enter into an agreement with us not to sell it anymore," Kirkpatrick said.
Kennedy Hoffman, 19, knows the dangers of the drug very well. She was an addict for almost a year before giving it up.
"I would wake up in the middle of the night sweating and having to smoke it," Hoffman said.
She'll be two years sober this May, and is one of many in support of the city's decision to sue businesses that continue to sell K2 or any variation of it.
Wicked Smoke is one of the five businesses receiving Kirkpatrick's letter. Owner Mellissa Austin says she's happy to comply. She took K2 off her shelves voluntarily about three years ago after seeing the effects in her customers.
"I cared more about people's health than the money, we made a lot of money off that stuff," Austin said, mentioning she could sell up to 1,00 packets in a day. "I chose to pull it from my shelves because I didn't want anybody getting hurt off of anything that I ever sold."
The other four businesses receiving letters are Island Smokes, Dirt Cheap, and the two Aladdin Tobacco locations.
Kirkpatrick says after the recent surge in overdoses (more than 100 in the last couple weeks), the city has a solid case if they need to take any distributors to court. A similar strategy was successfully used in Yavapai County in Arizona, he says.
"We think that we can reach that goal and prove to a court that it is a public nuisance," Kirkpatrick said.
Kennedy hopes the city's actions will also continue the discussion.
"It's not only taking away the drug itself but informing people of it, informing is the most important part," Kennedy said, "and then have people know that there's people out there that are going to help them."
Kirkpatrick says he'd like to have the agreements signed by mid-May.