Cleaning Up Holiday Celebrations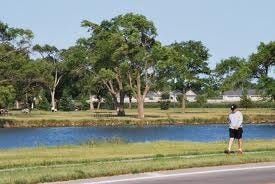 By: Cole Miller
CMiller@klkntv.com
The independence day celebrations are over, but the after effects are just beginning.
Today, volunteers are doing their part to help clean up some of the mess could pose a threat to the local environment.
Trash tongs and trash bags in hand, volunteers sweep Oak Lake Park for litter.
It's all part of the second annual Oak Lake clean up…"the whole goal of the program is to obviously keep our lakes and streams clean."
And plenty of people took time from their morning to pitch in. Nicole Milkovic says, "we're actually part of big brothers, big sisters. She's my little sister and it was in the newsletter that there was clean up today and I asked her if she felt like this was something she wanted to do and she said 'of course'."
"I think we should clean up after all this stuff because if we don't, it's going to look awful and we should really keep our city clean," Lyrica Baxter says.
Keeping Lincoln clean can be a chore, especially after a booming holiday, finding all those leftover firecrackers was a big priority. Working for the city as a water quality educator, Emma Trewhitt says they pose a risk to the environment…"it can release a lot of heavy metals, some peculiarities and things like that really can have a harmful effect on fish and wildlife and also if it gets in to our water supply into us."
So, as they make their way around the lake, filling their bags, it's a preventative step to keeping a bigger problem at bay…"it's good that we do this now with great volunteers."