Copy-Color the Weather Contest Rules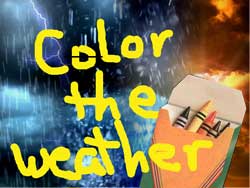 Color the Weather
The Central Plains Severe Weather Symposium and Family Weatherfest will be held on April 1st on the Nebraska Innovation Campus. As part of the weatherfest, Integrity Exterior Solutions is looking to reward artistic talent during the Color the Weather contest. The contest judging is open to children 12 years of age and younger. All you have to do is create a weather related drawing on a standard 8.5" X 11" white paper. Parent or guardian must submit the artwork. See rules below for what needs to be on the entry. Our judges will choose a first place, a second place, third place and fourth place winner. The winners will receive a Hobby Town gift certificate. See complete rules below, which include criteria and method of determining the winners.
CONTEST RULES-
No purchase necessary.
Parent/Guardian submitting entry must be 18 years of age or older.
Pictures must be drawn by children 12 years of age and younger.
Void where prohibited by law.
Contest starts March 14. Entries must be received by close of business (5PM) on March 24, 2017
Enter: Create a weather drawing on an 8.5" X 11" white paper. Each entry must have the name, email address and phone number of the parent/guardian sending in the entry and the name and age of the child artist. Entries must be mailed to Color the Weather, Channel 8 KLKN-TV, 3240 South Tenth Street, Lincoln, NE 68502.
Prize: There will be four winners. The first place winner will receive a $75 HobbyTown gift certificate. Second place will receive a $50 HobbyTown gift certificate. The third and fourth place winners will receive a $25 HobbyTown gift certificate
Value of the first place prize is $75, second place is $50 and third and fourth place is $25s.
Odds of winner depend upon the number of entries. If 100 entries, then each entrant has a 1/20 chance of winning.
Judging will be based upon, but not limited to the following; weather related subject, use of color, originality, and creativity.
Judges will consist of meteorologists.
Winners assume responsibility for all applicable taxes and licenses.
Entrants must live within the Channel 8 KLKN-TV coverage area to be eligible to enter the contest.
Decisions by the judges are final
No substitutions unless agreed upon by the sponsor and prizes are not redeemable for cash.
Limitations: Entrants must live within the Channel 8 KLKN-TV viewing area and/or the Lincoln, Hastings & Kearney, NE DMA as defined by the Nielsen Company. Those living in surrounding DMA's; Omaha, Topeka, and Sioux City are not eligible to win unless they can receive Channel 8 KLKN-TV at their place of residence via antenna, cable TV and/or satellite TV.
Employees, members of employees immediate family, of Channel 8 KLKN-TV, agents of any weather symposium sponsor and their respective members, subsidiaries, affiliates, distributors, members of competing media, as well as associated advertising and promotional agencies are not eligible to participate.
Disclaimer
The sponsor of this promotion is Channel 8 KLKN-TV, which is solely responsible for all aspects of the promotion. By participating in this promotion, all participants and prize winners agree that Channel 8 KLKN-TV, and its sponsors, their partnerships, subsidiaries and affiliates and each of such entities' respective officers, directors, agents and employees are not responsible or liable for any injury, loss, illness, litigation or damage that may occur from participation in the promotion or acceptance, possession, use or misuse of prizes. In the event that any dispute arises regarding the meaning or interpretation of these official rules, participants agree that the dispute shall be resolved by applying the laws of the State of Nebraska and that it shall be resolved by and within the courts of that state.