Community members help women's shelter after fire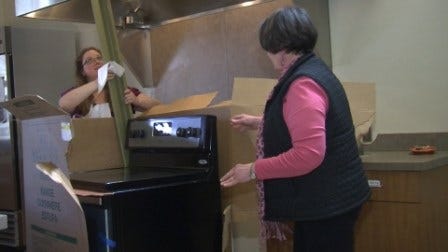 Posted By: Lauren Fabrizi
lfabrizi@klkntv.com
Two new ovens will help Fresh Start, a homeless women's shelter in Lincoln, feel more like home again after a kitchen fire destroyed both its ovens Monday afternoon.
"There were flames shooting up from the pot on the stove," Fresh Start exec. dir. Monica Zinke said. "Then, there were sparks coming out from the stove vents and underneath the stove."
That fire forced all women and staff inside to evacuate.
Zinke said after finding out everyone was okay, her initial reaction was, "Who are we going to call?"
That call was to New Covenant Community Church. The pastor instantly emailed his nearly 700 members. Within hours, a used oven in good condition was donated by one of the congregation members, and was in place, ready to feed the 24 women who stay there.
"It certainly is our mission to be Christ to the community," LaLanne Drake, a church member who volunteers at the shelter, said. "So in having the opportunities of service, we are able to show the love of Christ to women in need."
And just two days later, a second, brand new oven was rolled into Fresh Start thanks to another anonymous donor. Something Zinke didn't expect to happen so quickly.
"It was just humbling, it made me tear up actually when I was getting the calls that night about things that were already coming through," she said. "So thankful that Lincoln has such a great community that reacts so quickly."
Spices and pots and pans were also destroyed by the fire. If you'd like to help out, call the shelter at 475–7777.