Competition fuels voter turnout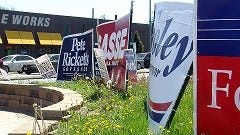 By: Jenn Schanz
jschanz@klkntv.com
For months, campaign signs have lined nearly every intersection and Lincoln street. According to election officials, the flow of ads can often signify the flow of voters come election day.
"Turnout always depends on the types of races, types of issues that might be on the ballot, and how hotly contested issues seem to get when they get down to the end," says Lancaster County Election Commissioner David Shivley.
Based on the influx of campaign commercials and attack ads, voters have more than one highly contested race to choose from.
Election officials expect a 30 percent voter turnout. They say open seat races, where the incumbent is not running, generally breed fiercer competition.
This primary election, the Governor, U.S. Senate, State Attorney General and State Auditor are all open seats. So are five Legislative spots.
The intense advertising hasn't gone unnoticed by voters.
"I think the campaign ads have been a little bit much this year. Someone will put their sign down and then someone else will see it and they'll want their sign there too," says voter Drew Feldewerth.
Despite some frustration with the commercials, phone calls, and flyers, many voters admit that it makes them more interested in the race's outcome and more likely to show up on election day.
"I feel like that will definitely influence voter turnout," Feldewerth says.
The Primary is Tuesday, May 13th. Polls will be open from 8 a.m. to 8 p.m. For more information on voting, or to find your polling place, click here: http://www.lancaster.ne.gov/election/