Construction officially starts on Career Academy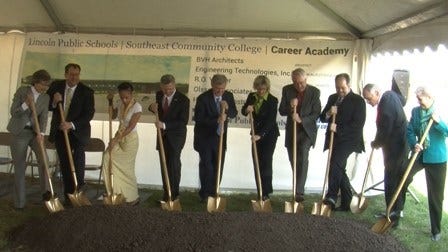 By: Hannah Paczkowski
hpaczkowski@klkntv.com
With her high school graduation nearly a month away, Mikayah Worthon said she knows from experience that this new venture will be successful.
"I found high school had its dull moments and I wanted something to inspire me and to get me going," she said.
That's why she joined the Entrepreneurial Focus Program, an organization that gives students the education and skills to hopefully own their own business someday.
"A lot of times these are very, very talented young people who lose interest while they're in education," Nebraska Commissioner of Labor Catherine Lang said.
In Fall 2015, a Career Academy at Southeast Community College will be available for those students in Lincoln. The academy will allow high school juniors and seniors to take dual credits for different career paths. They involve agriculture, business, computers and other skills like welding, culinary and advanced manufacturing.
As students prepare to graduate high school, like Mikayah, they'll leave the academy with up to a year of college credit under their belts.
"It's better to start now than to start later. I'm excited about starting new things," Mikayah said.
For more information, go to http://www.lps.org/post/detail.cfm?id=6862