Construction slows traffic on South 27th Street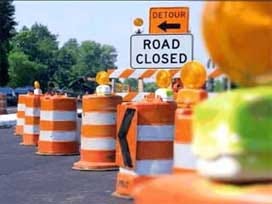 There are a lot of road construction projects going on around Lincoln. One of the biggest is 27th street from Capitol Parkway to Sheridan Boulevard.
There are no easy routes around the project, which extends from Capitol Parkway to Sheridan on 27th Street. It may sound obvious, but what's most annoying is that when you get stopped there, you have to wait at the light. Garry Werner wonders, "For what reason? There's nobody coming from the north or the south. They could just as easily put the lights on flashing yellow."
That's why crews are putting these censor wires underneath the concrete, so that when you arrive at the intersection, the light will know when to turn green. Engineering Specialist, Kirk Drake, says construction on this stretch of road was recently slowed by an unexpected water main issue. He says now they're back on schedule.
Some of the project should be finished by mid-September and the rest completely done by October 15th. Managing the project for the city is Tom Shafer and he's well aware of why making this deadline is so important. "We're trying to get done ahead of other activities in the fall, like "Boo at the Zoo" that have a lot of traffic. And we try to work around football season as best we can."
Detours are available and your asked to use those rather than driving through the nearest neighborhood.