Cordova family hit hard by tornado, still smiling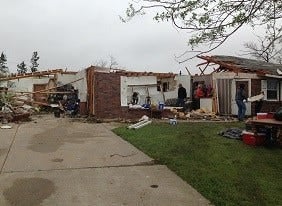 By: Bill Schammert
bschammert@klkntv.com
Vickie and Wayne Olsen have lived in their home just outside of Cordova, Neb. for more than 50 years. That will have to change after a tornado devastated the farmstead that's been in the Olsen family since the 1940's.
"Because most of the farmstead is actually gone, I just don't think we can rebuild," Vickie said.
With no roof, collapsed siding and blown out windows, the Olsen home is unrecognizable, but the family is safe and healthy. Some might call it a Mother's Day Miracle because nobody was home at the time the twister hit – they were celebrating the holiday with family in Grand Island.
Now, with a home that's a total loss and nearly a dozen structures on the farmstead simply gone, the family is facing a clean-up it's never seen before. Still, in the aftermath, it's hard to find a sad face.
"It was a good home, we had a good life here," Vickie said. "We raised six kids here and right now, I only see the positives."
Looking at the destruction, Vickie joked she could finally get new dining room carpet, something she's always wanted.
About a mile to the North, the Olsen's son and his children were at their home when the storm came through.
"We just saw it circling above," Vickie's grandson, Brayden, said. "We went downstairs and it was roaring pretty good. Our ears were popping."
When they came back up, the roof to their garage was gone, their south-facing living room window blown out. Outside, their farmstead was a complete mess. A tree at least a yard in diameter was completely uprooted, but a mailbox only a few feet away was still standing.
"It's unreal, I still don't know what to think," Brayden said. "I never thought it would happen to us."
With two homes and two farmsteads, the storm left widespread structural damage for the Olsen family. But no matter how hard she tried, Mother Nature couldn't dampen their spirits.
"Our family is here, our friend's are helping," Vickie said. "And we'll always have the memories."