Cornhusker Express proposal catching attention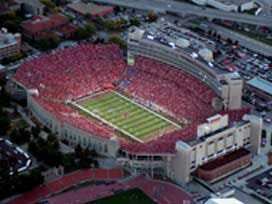 A train for out-of-towners in need of their Husker fix could be on the track to reality. It's all because one Lincoln man's idea to re-introduce the Cornhusker Express is catching the attention of some Lincoln railroad professionals.
It began as a school project and has blown up into a full-fledged mission for one young man and Saturday he even went to the local Pro Rail Nebraska group to gain support for the his idea.
The idea? Railway transportation for the fans of HuskerNation.
Mathew Roque wants to bring back the retro railways, the ones that in the 1960's and 1970's transported Husker fans from Omaha to Lincoln and back on game days. He says, "it's not a transportation project or issue. It would be a party from Omaha to Lincoln and it just so happens it rides on rail."
Roque, who graduated with a masters degree from UNL this spring, says he's done all the research. The entire project would cost $2.5 million. Only $500,000 is needed from an investor. Roque says that investor could see up to a 61% profit.
He says the project would also save on carbon emissions, road wear and that terrible game day traffic.
So now the question is…all aboard??
Zack Dillion of Lincoln says, "it would be a great idea. I myself would use it."
Jaime Heibel of Lincoln agrees. "With everyone going green, I think that would help the carbon monoxide pollution, reckless driving and game day traffic tremendously."
Roque conducted a survey in Omaha and says 90% of all respondants claim they would use the train service.
So now that all the logistics are in place- insurance companies lined up, banks willing to loan- all that's left is to convince a railroad company like Burlington Northern or Union Pacific that they're right on track.
Roque says, "As a freight railroad company, their goal is freight, so they are skeptical that something like this would start up."
Roque says rail cars are included in the price. He says they'd have to do is buy old cars from around the United States, refurbish them and get permission to put them on the same tracks as some other trains.