Council members past and present support arena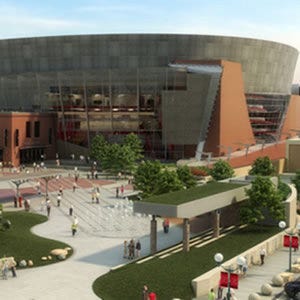 Eleven past and present City Council members stand united in favor of the Haymarket Arena project that goes before voters in Lincoln May 11th.
The countdown continues. In 42 days, voters will be marking yes or no to a $25 million bond issue to pay for a portion of the arena. A vote, that 11 past and present city council members say is a tally in the right direction. Their idea of moving forward is a 16 thousand seat arena that would sit in west Haymarket surrounded by an ice center, hotels, apartments and places to eat and shop. To supporters, these things equals money.
"Every dollar spent by a tourist in from out of town is newly found money. It is the purest form or economic development and these dollars support sales tax revenue which is the lifeblood of our city budget," says former council member Robin Eschliman.
But a picture perfect arena doesn't sit right with everyone. "It's not a good risk, it's not a good bet, not at this time, not at this place," says arena opponent Kandra Hahn. Hahn says there's a lot of hype about the $260 million the arena would generate each year, and the 1,200 permanent jobs it would create. She says there's no telling if those jobs will stay local. Hahn also doesn't like the idea of voting on only $25 million, given that a new arena would cost around $344 million. Money that would also come from private donations and increased taxes on restaurants, hotels and rental cars- money she says you can't vote on in May.
The pro–arena campaign says there's 5 more past and present council members who are behind them… Bringing the total number to 16.
For more information about the Haymarket Arena, log onto the City of Lincoln website: www.lincoln.ne.gov