Couple escapes flash flooding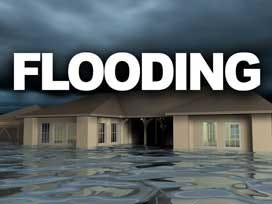 A couple in Weeping Water says in a matter of minutes, the flood waters rose from their basement floor to their own necks.
Beau and Carolyn Flint are still reeling from the fierce force of nature. Reality comes washing over Beau as he digs through what little is left of his basement and livelihood: the family printing company.
During last week's downpour, the couple was racing against rising waters trying to save electronics vital to their business.
A lake near their home swelled and Beau says a wave crashed into the house, ripping the basement door off its hinges and leaving the two looking for a way back out of the basement.
Beau climbed through a window but his wife was nowhere to be found. "I was telling her to get out, but it was too late. She was already trapped."
When parts of the wall collapsed, Carolyn was left trapped in a room as the water inched toward her neck. She finally made it to the window and Beau helped pull her through.
After a night of recovery, they're cleaning up.
One of the cars is totaled, their furnace destroyed and leftover pieces of the business they built together are lying in thick mud. All of it they hope to replace. Beau says, "we've got to get our business back up and going in the dining room."
He says the flood brought him a life lesson that will outlast the damage it left. "Something like this, it goes to show each other how much each other means to you."