Body found in Elkhorn River identified as Josue Rameriz-Marinero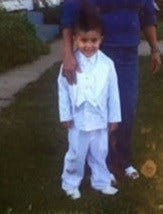 By: KLKN Newsroom
8@klkntv.com
UPDATE: OMAHA, Neb. (AP) _ Authorities say they've found the body of a 5-year-old boy whose adult brother is charged in the killing of their mother and whose younger brother was found alive in a dumpster. Douglas County Sheriff Tim Dunning said Monday that Josue Ramirez-Marinero's body has been found, but he provided no details. Authorities had been searching the Elkhorn River on the west side of Omaha since last week.
OMAHA, Neb. (KMTV) – Crews out searching along the Elkhorn River for the missing 5-year-old son of a woman found murdered last week have found a body, according to the Douglas County Sheriff's Office.
Investigators have been searching along the Elkhorn River since Friday, the same day they arrested Roberto Martinez-Marinero for the murder of his mother Jesus Ismenia Marinero.
They say Martinez-Marinero turned himself in, saying he was involved in his mother's murder and threw 5-year-old Josue Ramirez-Marinero in the Elkhorn River.
A spokesperson for the Omaha Police Department says investigators are headed to the scene for a briefing and will speak to the media afterward.