Cross Returned to Bishop James Conley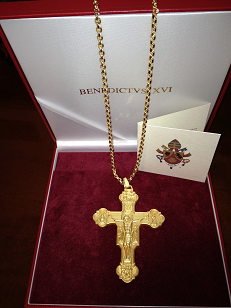 By: KLKN Newsroom
8@klkntv.com
LINCOLN, Neb. (AP) The Lincoln Diocese says the ornamental cross reported stolen from the home of Bishop James Conley has been found on the bishop's property.
The gold pectoral cross was found Thursday. Diocese spokesman JD Flynn wouldn't say exactly where the cross was recovered, citing the police investigation and a desire for the privacy of those involved. He says the gold pectoral cross is irreplaceable because it was a gift from Pope Benedict XVI. It's valued at about $1,000.
It was reported stolen on Oct. 10. Police say a house alarm was tripped, a door had pry marks and a window was broken. Only the cross was taken. The bishop wasn't home at the time.
No arrests have been reported.