Dangerous Dogs And State Fair Funding Bills Advance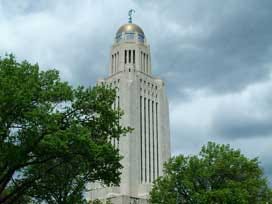 Nebraska lawmakers have given final approval to stiffer penalties for owners of some dangerous dogs. Under the bill (LB494) sent to Gov. Dave Heineman for his approval, the owner of a dog deemed dangerous because of a previous attack could face up to a year in jail and a $1,000 fine if the dog attacked again and injured someone.
After a third attack by the dog, the owner could face a felony penalty of up to five years in prison and a $10,000 fine. The current maximum penalty for owners of dangerous dogs is up to a week in jail and a $1,000 fine. The bill would also require veterinarians to report cases of possible animal abuse.
Nebraska lawmakers have signed off on a deal that could cut $1.5 million from Grand Island's costs of moving the State Fair there from Lincoln. Lawmakers on Monday gave final approval to a bill (LB224) that would credit Grand Island for the money needed to move ball fields to make way for a fairgrounds parking lot.
Grand Island is supposed to contribute $8.5 million to the expected $42 million cost of moving the fair. The $1.5 million will be credited against that total. Sen. Tom Carlson of Holdrege, chairman of the Agriculture Committee, has said lower-than-expected construction bids for work on the new fairgrounds make the deal possible. Lincoln has been home to the State Fair for 107 years. The fair moves to Grand Island in 2010.
Nebraska lawmakers may stop making laws early this year. On Monday, Speaker of the Legislature Mike Flood of Norfolk said he will give senators the chance to vote to adjourn the session on May 29, the 87th day of the legislative session. The session originally was scheduled to end on June 4, which would be the 90th day of the session _ the normal stopping point. Flood says several factors will allow lawmakers to consider ending early, including fewer bills being introduced and legislative committees putting bills in good shape for debate.
Debate on some bills has also been shorter this year, partly due to the absence of former state Sen. Ernie Chambers. The longtime filibusterer from Omaha was pushed out of the Legislature by term limits. ___