DaVinci's hosts 32nd annual free Easter Dinner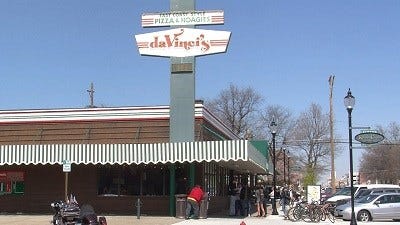 by. Marlenia Thornton
An Easter meal is something not promised for many families, but DaVinci's is working to change that.
Many lined up at the restaurant's 11th and G location for its annual free Easter dinner Sunday.
The dinner is primarily for low–income families.
More than 500 people packed into the restaurant to enjoy an Italian feast.
Volunteers served pizza, pasta and dessert.
They say it's all about giving back.
"It's a good way to give back to the community and people who might not have family to go to for the holidays or someone to go eat with we give them the opportunity to be fed," Volunteer Keenan Serrano said.
More than 100 volunteers helped out with the event.
They were not only serving families, but also hard at work in the back prepping all of Sunday's Easter fixings.
This has become like a family tradition for the Dorns.
Mother Gigi Dorn says she's grateful all of the work the volunteers do every year to ensure people have a tasty meal.
"We do want to thank them here because they put a lot of work into this and all we have to do is enjoy," Gigi Dorn said.
Organizers say it's their pleasure to give back to the city.
"It's been a joy to serve lincoln and they've been so good to us at DaVinci's we want to be good to them," Darla Klopfenstein said.
Klopfenstein is related to the owners of the restaurant.
The event started in the early 80s after the owners saw a need for this type of outreach around this time of year in Lincoln.
It's been going strong for 32 years.
—————————————————————————————————————————————————————————
by. Marlenia Thornton
DaVinci's restaurant, located at 11th and G streets, hosted its 32nd annual free Easter dinner earlier Sunday.
It was primarily for low–income families, but everyone was welcome.
The dinner was 11 a.m.- 3 p.m.
About 100 volunteers throughout the day served families pizza, pasta and all kinds of desserts.
They served more than 500 families.
Hear more from the families and volunteers tonight at 10.
.