Death Penalty ballot language causes confusion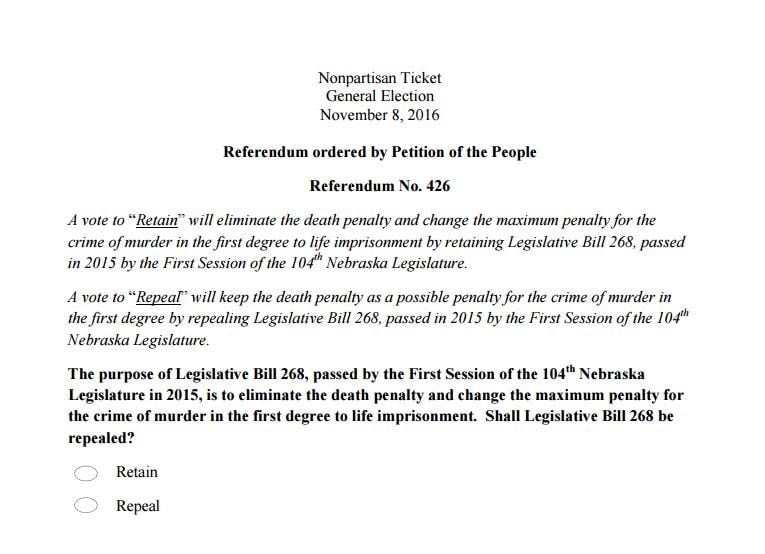 Posted by: Marlenia Thornton
mthornton@klkntv.com
In less than two months, Nebraska voters will get to cast their ballots regarding the death penalty.
There is a post going around on face book with the measure's language that is sparking conversation.
Some say the way it's worded has potential to trip up people at the polls.
It's a problem that concerns both sides of the issue.
"This one because it is a little confusing it's important for people to be aware of what they're vote would mean," Co-Founder Nebraskans for the Death Penalty Bob Evnen said.
In 2015, The legislature voted to abolish the death penalty in Nebraska.
This past year, Nebraskans for the death penalty did a petition drive and earned enough signatures to allow you to decide this upcoming election.
The organizations say the terms of retain and repeal are not used in the typical sense and that's where the confusion starts.
"But in this case, we're voting to retain or repeal a legislative bill that eliminated the death penalty, so it's a bit confusing," Retain a Just Nebraska Spokesman Dan Parsons said.
You can see a sample of what you'll see on the November ballot, which can be found on the secretary of state's website.
What it boils down to, if you vote to repeal, you're voting to bring back the death penalty.
If you vote to retain, you're agreeing with lawmakers, to keep the death penalty away.
"This is a difficult issue. It's an emotional issue and we're encouraging people to educate themselves about this issue before they go to the polls," Evnen said.
"The voters of our state are pretty sharp. They for the most part they do understand this, but we want to make sure there isn't any confusion," Parsons said.
Once again, you'll be able to vote on this issue November 8.
The secretary of state plans to hold some hearings in October to help educate voters as well about this.
Nebraskans for the Death Penalty website: http://www.nebraskansforthedeathpenalty.com/
Retain a Just Nebraska website: http://retainajustnebraska.com/
Secretary of State Website: http://www.sos.ne.gov/elec/2016/elections.html