Death penalty debate returns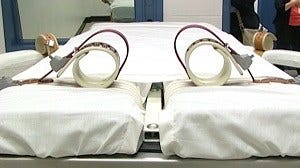 On November 8th a majority of Nebraskan's voted to bring the death penalty back, but some state senators disagreed.
"If the argument that a majority of the people don't like something therefore the legislature shouldn't do it, than throw out all the taxes. That's a bogus, phony argument it will continue to be made where the death penalty is concerned, but I will continue, as long as I'm in the legislature, to try to abolish it. The state should not kill any of its citizens," Sen. Ernie Chambers said.
LB 446 would abolish the death penalty and replace it with a sentence of life without parole.
"LB446 is in stark contradiction to the voice of the citizens," Corey O'Brian, with the NE Attorneys Association said.
"However violence does beget more violence," said Elle Hansen, supporter of the bill.
Nebraska currently has ten men on death row. Some of the families affected by their crimes spoke out.
"How would that make you feel? He is still victimizing me and my family even from death row and I want to know that I will never receive another letter from him and I also want to know that these men will never hurt another person," Christine Tuttle, opponent of the bill, said.
Some advocates for the death penalty say it's a flawed system that can be fixed.
"I suggest you model our laws after states that can carry out death sentences and if cloaking of the drug sources is necessary, so be it," Sheriff Rick Everheart said.
Others say the only way to fix it is to repeal the sentence entirely.
"The system would still be far from fixed, because there is a big difference between finding the drugs and making the death penalty operational again and taking all the reforms that would be necessary to making it as efficient, effective and fair as life without the possibility of parole," said Matt Maly with the NE Conservatives Concerned About the Death Penalty.
Wednesday was the public hearing, the next step will be for the bill to go to committee and be voted on.