Death penalty one step closer to repeal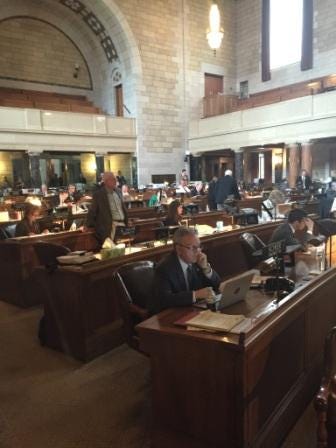 Posted By: Camila Orti
For the first time in nearly four decades, a bill to repeal the death penalty has made it to the governor's desk.
With 32 "yes" votes and 15 "no" votes, Nebraska lawmakers made history in the legislative chamber Wednesday morning. For the first time since 1979, a bill that would quash the state's death penalty made it past final reading. This is something Omaha Sen. Ernie Chamber's has been trying to accomplish for nearly four decades.
"This amounts to taking the state where I live out of the killing business which it has been in ever since its inception," Chambers said after the vote, "if I had a heart I'd probably say that I'm pleased."
During debate, many senators called repealing the death penalty the most important issue they'd ever talk about, no matter where they stood.
"I believe strongly that no individual has the right to take the life of another, nor should the state," Sen. Adam Morfeld said.
Those against the bill say the death penalty serves an important purpose.
"Even the federal government recognizes for some crimes, death is the only appropriate punishment," Sen. Beau McCoy said.
Gov. Pete Ricketts has already said he's going to veto the bill.
"This is out of touch with what most Nebraskans believe," Ricketts said, "we use it the right way and that's why we need to retain the death penalty."
But even with a veto, Chambers is confident his measure will become law after one more vote.
"I'm sure we'll have the 30 votes to override his veto," he said.
Currently, Nebraska has 11 inmates on death row, but it's still unclear what would happen to them if capital punishment is abolished. The attorney general's office says that legally, the legislature does not have the power to repeal their death sentences.