Denton church hosts egg hunt for Mission kids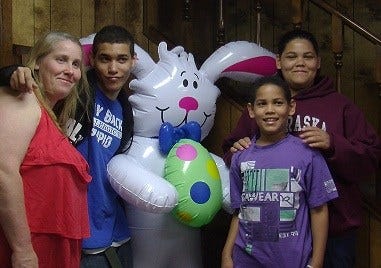 Posted By: Camila Orti
corti@klkntv.com
There was no shortage of Easter eggs in Denton on Saturday.
Organizers from the Denton United Methodist Church hid more than 600 treat–filled eggs outside the church. It was all to give folks at the People's City Mission a fun afternoon.
Activities included crafts, prize drawings, and an Easter egg hunt. The hunt, of course, was the crowd favorite.
"My dad's probably going to take most of them, he's probably gonna say you can have one for now but it's worth it, I still have tomorrow," 10-year-old Isaiah Craig said.
Organizers say more than 20 kids and their parents from the Mission came out, along with another couple dozen from the community.

"We don't want to see kids miss out just because of their parents circumstances, they should be able to do everything everybody else gets to do," Pastor Karen Lamb said.
Lamb says the church began hosting events for Mission guests last year, starting with a Halloween party.
"I think this is going to be a tradition that will definitely continue," Lamb said.
Mission parents say they're grateful for the outreach.
"It gets my kids out, involved, maybe get to see things that they normally wouldn't do," Carol Petties said, "it's cool."
All the snacks and supplies were donated by church members and people in the community.
Easter Sunday Meals and Egg Drop
8 a.m. – Westminster Presbyterian Church
11 a.m. – daVinci's 20th & G
2 p.m. – Seacrest Park 70th & A (Egg Drop)