Fundraiser planned for Josef Parker of DeWitt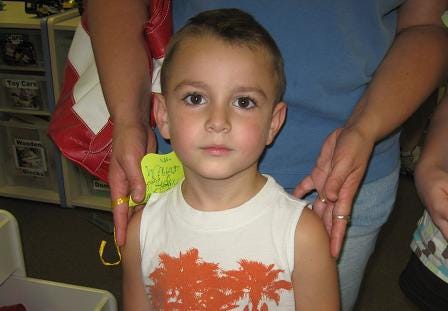 The Community of DeWitt and Tri County Schools will host a benefit Friday to help the family of Josef Parker.
Four-year-old Josef Parker is fighting for his life after contracting bacterial meningitis in early January. He was flown to the University of Iowa Medical Center in Iowa City, where on Monday, doctors had to amputate his arms and legs Monday.
It's something no one ever expected to happen. Now everyone in the Tri-County area is keeping their heads high and doing whatever they can to lend a hand.
Kerri Thornburg knows and loves the four-year-old boy. She says, "It's just crushing to know that his life is just changed in an instant."
Josef came down with meningitis two weeks ago. Since then, he's been in three hospitals, on life support. On Monday, doctors decided the bacteria had spread too far, so they amputated both of his arms and legs.
Kerri says for his mother, family and everyone else pulling for him, "she doesn't care. They don't care. None of us care if he has arms or legs as long as they have their little boy back."
Josef is expected to survive. In the meantime, the community is coming together. They have funds set up for the Parkers at two banks.
Jars to collect money are at several locations around DeWitt. This Friday, there will be a spaghetti feed and silent auction at the DeWitt Community Center, located at 200 North Cherry St. It's from 5 p.m. to 8 p.m.
Kerri says, "This family needs help and we're here to help. We hope everybody that can will come and if you can't come find one of those banks or find one of those many jars and drop something in there."
Donation jars for the Parker fund can be found in DeWitt, Beatrice, Swanton and Plymouth. Donations are also accepted at Union Bank at the First State Bank in DeWitt.