Doane College mourns loss of student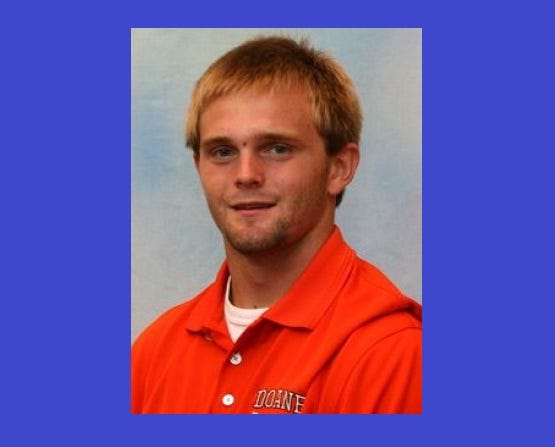 By: Ashley Harding
aharding@klkntv.com
20-year-old Cody Fanning died after falling out of a pick-up early Wednesday morning. The driver of the pick-up, Cody Barnes was arrested for DUI and has bonded out of the Saline County Jail. County Attorney Tad Eickman says charges against Barnes have not yet been determined.
Meanwhile, Cody Fanning's friends remember his life. For those who knew Doane junior football player, his presence brought a sense of comfort and closeness. A makeshift memorial has been put together on the Doane College Campus in Crete.
"I expect, once I leave here that he's going be at home cooking, burning up the house. But you, know, he's not. That's going to be, it's a void, you know, even though he was a short time in my life, he made a big impact," says teammate and friend Jeremy Wallace.
The college junior hit his head after falling out of the back of a moving pickup truck. The group of friends were coming back from a bonfire party off campus. Fanning died at the hospital.
Off the field the Doane linebacker is remembered as a person who treated you like family. But, on the field, Fanning, all five foot six of him had the heart of a lion. His coach remembers.
His favorite moment last year was during a game against Northwestern Iowa.
"They threw a pass out in the flat and Cody intercepted it, took it about 10 yards for a touchdown. At this point the whole team realized we have something special. And the rest of the season on that, that literally sparked the entire season," said Coach Matt Franzen.
And no matter whether they won or lost, his teammates say it was Cody who set the tone.. he was one who told everyone to stay positive. And despite his tragic death they say that message wouldn't change.
"I think if he was here right now, he could tell me to keep my head up. 'I'm going to be okay. You guys are going to be okay. Rejoice, you know, come together'."
COACH FRANZEN SAYS THE FOOTBALL TEAM IS PLANNING TO HONOR CODY IN A SPECIAL WAY WHEN THE SEASON STARTS UP AGAIN.