Doane Wins Again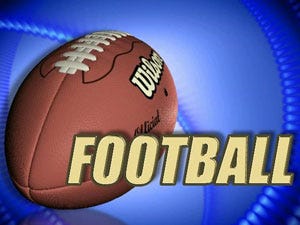 It's been 10 years since the Tiger football team has won their first two games of the season. After a pair of road trips to open the year, Doane will return home next Saturday, September 17, with a 2-0 record following a 52-13 smashing of Dakota State University.
Doane controlled the game in every way possible, racking up 604 yards in total offense while limiting the Trojans to 258, including only 53 yards on the ground. The Tiger offense passed for 367 yards while rushing for 237.
For the second straight game, Doane scored on its opening possession as Anthony Dunn hooked up with Jeremiah Saffold for a 34-yard pass play. On their third possession of the game, Alex Dose capped a nine-play drive with a two-yard run to put the Tigers in front 14-0.
Held on their next possession, the Tigers punted but DSU return specialist, Carl Curtis, fumbled the ball and Doane recovered to set-up their third touchdown of the first quarter. Dunn hooked up with Tyrone Curry on the first play for a 13-yard score.
Doane continued the touchdown spree early in the second quarter with an eight-yard pass from Dunn to Nolan Kawata. The Tigers added another touchdown on their next possession as Dunn hit Nolan Samuelson for a one-yard score to put the Tigers up 35-0. Dose added his second touchdown run of the game with 40 seconds remaining in the half as he scored from 19 yards out to give Doane a 42-0 lead at the half.
"We went into the game looking to establish the run," commented Doane Head Coach Matt Franzen. "It took a quarter for our offense to wear down their defense. They ran 4-4 defense, so they were set to stop early. When they got tired Dose started to have some punishing runs."
Dakota State came out of halftime and put together their best drive as they went 68 yards on 11 plays to score a touchdown. Robert Ortiz caught a nine-yard pass from Brandon Large for the Trojans.
Dunn added a fifth touchdown pass early in the fourth quarter as he found Saffold for the second time in the game, hitting on a 10-yard score.
Curtis brought in an eight-yard pass from Large with 11:58 remaining in the game to cut the lead to 49-13 but DSU missed on the two-point conversion attempt.
Doane ended the scoring with a 12-play drive that was capped by a 27-yard field goal by Andrew Nielsen.
In addition to put up their largest offensive output in more than a decade, the Tigers held a 15 minute advantage in time of possession.
For the game, Alex Dose rushed for 114 yards with two touchdowns making him the first back to go over the century mark since October 2008. Tyler Davis added 69 yards on 11 carries for an average of 6.3 per carry.
Anthony Dunn hit 21-of-30 passes for 347 yards, five touchdowns and two interceptions. He tied his career-high in touchdown passes and fell one shy of the school record.
"We could throw almost any pass they wanted during the game," Franzen said. "Our receivers matched up well and took advantage of their inexperience. On film, the secondary was something we though we might exploit and our top receivers are pretty good."
Tyrone Curry led the receiving corps with five receptions for 77 yards and one touchdown. Jeremiah Saffold had two catches for 91 yards and two scores. Jesse Ver Velde added four receptions for 58 yards while Nolan Kawata had three catches for 63 yards and a score. Devon Niewohner also had three catches for 49 yards.
Defensively, Dalton Ryba led the way with nine total tackles and a forced fumble. He added two tackles for lost yardage. Josh Milz had six total tackles with Jeremy Wallace adding five. Sheldon Garcia had a fumble recovery while Justin Roehrich and Justin Malleck had interceptions for the Tigers.
"Stopping the run was the primary concern during the week for the defense," Franzen reflected. "They have a freshman back that is very good. We were able to accomplish our goal."
With Ryba's big game, Franzen attributed his efforts to the defense's success on the day.
"Dalton's been around for a long time, he is in his third year as a starter and plays with energy. He is playing at high level and making a lot of plays, his experience gets guys in the right spot."
Franzen says that the play of transfer Jeremy Wallace has helped balance the load for Ryba as well which allows Dalton to focus more on football and not on being the "pump-up guy".
Dakota State's top offensive effort came from Brandon Large as he completed 21 passes for 205 yards and two touchdowns. Defensively, Craig Hertz was in on 19 total tackles including 10 solo.
Doane will return to conference play on September 17 when they host nationally ranked Northwestern College in the season's home opener.
The Tigers will have their hands full with the Red Raiders as Coach Franzen says they look like a better team than they did a year ago when the Tigers lost by eight points.
"They run well so our rush defense will be big," Franzen said. They have an All-American running-back and their offensive line is very good. We need to slow them down because we are not going to just shut them down like we did to Dakota State. Their defense is better than last year as well and they added a Sioux Falls transfer that is the real deal. We must execute on offense and eliminate turnovers because we can't give them opportunities. Our kids feel good right now and have confidence so if we start well and play with them early on it could be a good game. Both teams are better now than a year ago so it could be an exciting home opener."