Owner: Lamar, the dog, has died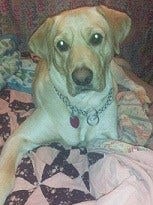 By: Brittany Paris
bparis@klkntv.com
It was back in March that a yellow lab named Lamar became the center of a dog bite controversy in Beatrice.
Lamar was taken from his owner, Stephanie Carman, after he attacked a 13-year-old neighbor.
The family said he wasn't a mean dog when we talked to them in April.
"We've had him for two years. Never had a problem with him. He's just been a good dog for as long as we've had him," Stephanie Carman, Lamar's owner, said.
But police and the Beatrice Humane Society determined Lamar was vicious and should be put down.
He was held at the Humane Society for almost 50 days. According to Carman, the dog was kept in his cage the entire time.
The family finally got Lamar back less than two weeks ago after a judge decided he would be released but monitored with a microchip.
But now, Lamar's family says he died.
There was a report that the dog bit a woman in the face last Saturday, but that woman says it didn't happen. When police went to talk to Carman, she said Lamar had fallen down the stairs of their home and died earlier in the day.
Carman said because he was caged for so long, Lamar gained weight and couldn't move around as well.
She says Lamar was buried in Gage County.
We've received a lot of opinions on Lamar's death on our Facebook page. Some of you feel bad for the dog.
One person said, "So sad to hear. I'm sure he will be greatly missed."
And others seem skeptical. One person asking, "How does a dog fall and die? Sounds fishy."