Dog Park Changes: City of Lincoln wants your opinion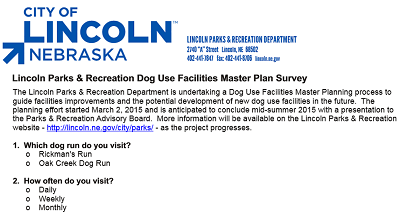 Posted By: Jenn Hatcher
jhatcher@klkntv.com
The Lincoln Parks and Recreation Department is seeking public input as it develops a master plan for its dog use facilities. The planning process will include an assessment of the existing dog runs – Rickman's Run, 70th and Normal, and the Oak Creek Dog Run, Cornhusker Highway and North 1st Street. It will also include development of design standards and guidelines for existing and new facilities; development of guidelines for site selection of future facilities; and recommendations for policies and regulations related to the operation and maintenance of dog use facilities.
Over the next month, the public is encouraged to take a brief survey on the existing dog runs through "Open Lincoln" at lincoln.mindmixer.com (a link is also available at lincoln.ne.gov). The survey can also be accessed at parks.lincoln.ne.gov, and paper copies are available at the Parks and Recreation office, 2740 "A" Street, Lincoln, NE 68502.
A draft master plan is scheduled to be presented to the Parks and Recreation Advisory Board in mid-summer. The final plan will be used in updating the department's 10-year facilities plan. Updates on the master planning process will be posted at parks.lincoln.ne.gov. For more information, contact J.J. Yost, Planning and Construction Manager, at 402-441-8255.