Downed trees cause power outages statewide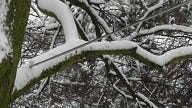 Posted By: Sarah Fili
sfili@klkntv.com
Heavy, wet snow caused tree branches to snap and fall across the Capital city Tuesday.
For one family, the wintery day quickly turned dangerous. A tree limb took out the power line connected to their house, and sparked. Their neighbor heard the commotion and called 9-1-1.
"All the sudden I heard a big crash and I looked out and saw a whole bunch of branches falling and see a big wire just falling and look at the house and there's flames shooting up the back side of the house," Lindsey Kurtzer, who lives near 49th and Leighton, said.
Everyone made it out safely. At one point Tuesday morning about 2,500 people in Lincoln were without power. Across the state? That number was closer to 40,000.
One Lincoln man said he was without lights for nearly two hours.
"Well I woke up for work and I just was talking to my parents like hey what's going on because I was trying to flip on lights and stuff. They just said power's out, it's been out for about an hour and a half or so, and we just kind of game planned from there I guess," Garth Hamilton said.
Lincoln Electric System says snowy conditions like these can cause tree limbs to sag. Then, they crack under the added weight. When they fall on power lines, LES heads out to make sure the area is safe- and restore power.
"The heavy snow and ice along with the wind will be sitting on trees impacting power through touching power lines or sometimes with the wind, the power lines will touch each other. This weather is leading to a lot of outages throughout our service area," Kelly
Street lights were down Tuesday as well, with officers out directing traffic.
The city and county are urging you to report downed trees, power lines, and lights out if you see them. Their phone number is 1-888-365-2412, or you can head to www.les.com.