Downtown construction stressful for drivers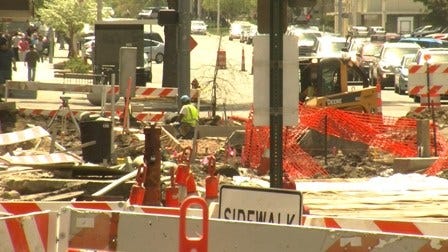 By: Hannah Paczkowski
hpaczkowski@klkntv.com
Driving down P Street is causing stress on some Lincoln drivers.

"It makes it like 10-times worse with just people not knowing where they're going or anything with general direction downtown," Jena Bowman said.
For those living downtown, some say it's the noise that keeps them up.
"Jack-hammering starts at like 7 a.m. That's a lot of fun to wake up to," Micah Davis said.
Some construction is scheduled to be done this weekend. For instance, there's some phone line repair from 14th to O and P Streets. Others, like the streetscape renovation at 11th from P to Q Streets, aren't scheduled to be finished until next month.
For most drivers in Lincoln, they say parking is the biggest issue.
"I can't get to work on time, ever," Sherae Sawyer said.
"It's already limited as it is and they're taking the diagonal spots into more parallel parking, so it's eliminating more parking," Jake Bunger said.
"Parking is getting crazy downtown, like over on P Street especially," Davis said.
Even with the noise and parking restrictions, Davis said he's still able to manage around downtown Lincoln.
"Driving-wise I actually haven't had a problem with," he said.
For a complete list of construction projects, visit http://lincoln.ne.gov/city/pworks/projects/street-closures/