Car vandalism in south-central Lincoln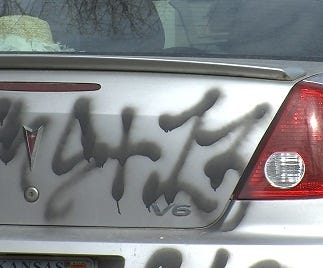 Posted By: Camila Orti
corti@klkntv.com
Lincoln Police are investigating 21 cases of vandalism in the Near South neighborhood.
"It's certainly a significant spike," Lincoln Police Capt. Jim Davidsaver said.
The calls started coming in at 8 a.m Saturday. Police say they received reports of slashed tires and graffiti on vehicles, all in the area between D and G streets from 18th to 21st.
Many area garages, particularly those in alleys, were also tagged. Police say most of the graffiti points to gangs not unknown to LPD. "Surenos" was one of the words found in much of the graffiti.
"The Surenos gang, that's not something that's specific to Lincoln, there are Surenos gang members across the country," Davidsaver said.
This makes some area residents uneasy.
"It's scary, people running up and down the alleys," area resident Cindy Farewell said.
Graffiti was spray painted onto Farewell's backyard shed, but it's the more vicious acts that worry her.
"Messing with vehicles and slashing tires and things, that's scary, this shouldn't happen here," Farewell said.
Police say about half the incidents involved slashed tires. The vehicles were randomly targeted along alleys and streets, totalling thousands of dollars in damage.
Police are still investigating and don't have any suspects.
If you have any information, call CrimeStoppers at 436-7500.