Dozens Protest Cuts to Social Programs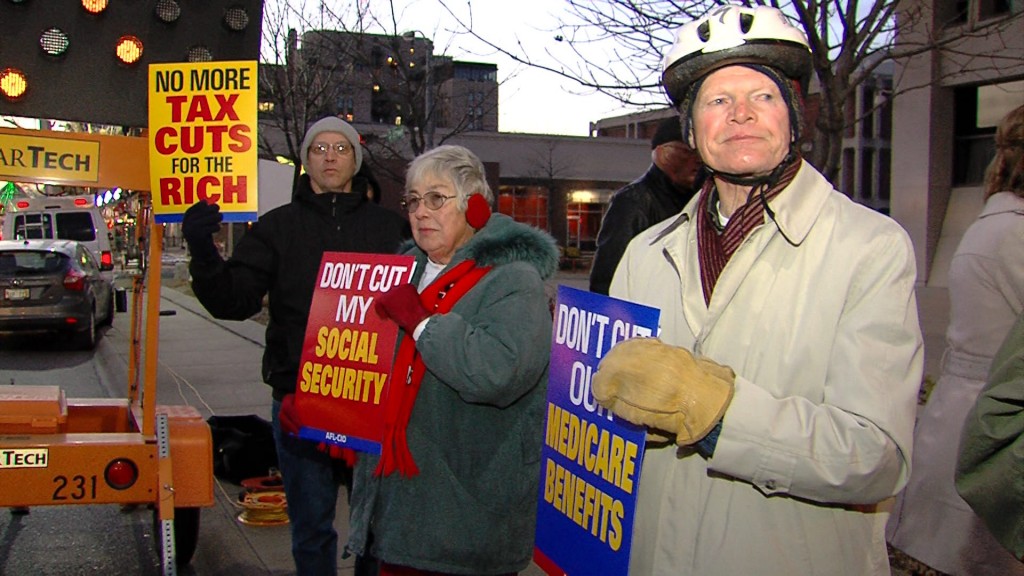 By: Bill Schammert
bschammert@klkntv.com
Twenty days. That's all the government has left to come up with a compromise before the dreaded Fiscal Cliff. Monday, dozens of Nebraskans wanted to make sure compromise didn't fall on the backs of middle-class Americans.
The message was simple, don't keep the Bush Tax Cuts in place.
"All that does is go down on the middle class, and they've paid enough," Nebraska AFL-CIO president, Ken Mass, said.
The hope for these men and women is no changes come to some important social programs. Some call them entitlement programs, Medicare, Medicaid and Social Security, but for millions of men and women, they're the programs that keep families afloat.
"It's something you're entitled to because you paid for it," Al Mumm of Lincoln, said. "Everybody in this country pays into Social Security and Medicare, and they've earned the right to have those benefits."
The event coincided with World Human Rights Day, and the group just wants America's wealthiest to pay their fair share.
"Put it back to the way it was during the Clinton administration," Mass said. "They had gangbusters, unemployment was down and then we'll go from there."
The fear is, if an agreement isn't reached, the average American family could be paying $2,000 more, per year, in taxes.
But still, this group has confidence in their elected leaders.
"I hope so," Mass said. "Hopefully they come aboard, stand on their own two feet. That's all we want."