Drivers Ed at Northeast High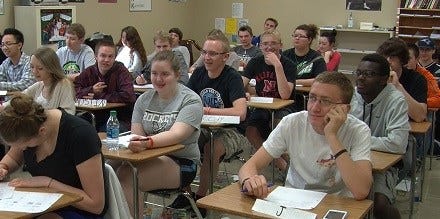 Posted By: Nolan Crane
Spring break isn't stopping some LPS students from showing up to school. They're taking drivers education classes hoping to get out on the roads.
Here's Friday, March thirteenth's "Excellence in Education" report.
For the past 38 years Randy Shada has taught drivers education at Lincoln Northeast during break. He's teaching everyone the dangers of texting while driving. He says 26 percent of teenage accidents are because of cell phones. Everyone in his class studying the drivers safety handbook say this is the perfect time to get their license.
"It's more convenient to do it during a week I don't have school, so I don't have to balance both of them," says Christine Phan.
"This class is good to learn the basics, so you don't go out there and get overwhelmed by everything that's going on," says Elijah.
"I want them to learn how to be a good defensive driver. It's not about how fast we can go, but how we can control our car to be a defensive driver and get in less accidents," says Randy Shada.
Shada says the average text message takes four to seconds. In that time cars can travel the distance of a football field which increases the risk of getting in an accident.