Drought worries Nebraskans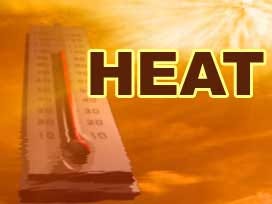 By: Kali Nicole
knicole@klkntv.com
Many Nebraska farmers are worried, their crops are drying up and possibly their profits.
But how bad is it? Governor Heineman has declared a state of emergency. It's because of drought conditions throughout the state, crops in counties as close as Gage and Jefferson are affected.
Lifelong farmer, David Endorf, says there's only one way to describe drought, it's draining. Not just of water, but time, money and faith on farmland.
"There's really nothing you can do about it on the dry land crops. We've tilled, we've left mulch on the soil, we've done the best we can to manage the moisture that we did receive during the Winter and early Spring," said Endorf.
That's why it's a relief for many farmers to hear a statewide emergency declared. Now, state personnel and resources can help farmers. One way, is with hay.
The dry, hot, windy conditions aren't just bad for crops like corn and soybeans, but for the feed for the large cattle industry in Nebraska. Roadside haying has been moved up from July 15th to July 3rd for those who want to apply with the Department of Roads.
A move that couldn't have come at a better time says Endorf. "It saves the state some money from having to cut it, and now it's better quality," said Endorf.
Now, if only Mother Nature will be so helpful, not just for the betterment of the Endorf family, but the entire state economy that can't afford the dry up.
Endorf added he thinks his corn crop can last, worse scenario, another ten days without rain.