E-cigarette ban for minors passed by senators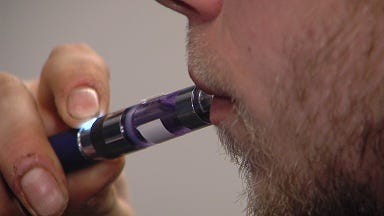 By: Jenn Hatcher
jhatcher@klkntv.com
A bill (LB863) designed to keep Nebraska minors from using electronic cigarettes won final approval from lawmakers, Thursday.
Senators voted 48-0 to send the proposal to Governor Dave Heineman's desk.
The bill would outlaw the sale of so-called e-cigarettes to anyone younger than 18-years-old.
E-cigarettes are battery-powered devices that give users a puff of water vapor and (sometimes) nicotine, sometimes with flavors.
Minors caught using the product and those selling to minors could face a misdemeanor charge under this new law.
Co-owner of Big Red Vapor, Jake Vrbka, says they've refused to sell to anyone underage, since they opened shop in September.
Vrbka says he does see a youngster about once a week trying to buy, "Some of them try to get around with well I don't want nicotine in it. It's fine but we still won't sell to minors."
Senator Russ Karpisek of Wilber, the bill sponsor, says there hasn't been enough study to know if e-cigarettes are safe.