Easter Egg Drop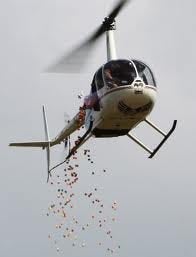 Some lucky kids went on an Easter egg hunt from the sky today!
Elevate church hosted the hunt for the third year. More than 7 thousand eggs were dropped by helicopter!
Hundreds of families were there to gobble up as many eggs and candy as they could get their hands on.
Father, Dan Forman says, "We heard the helicopter was going to be here so we said we've got to come out even if we weren't going to get any eggs but we got a bunch of eggs so it was a great trip all around."
The church organizes the event free of charge and the helicopter pilot donates his time and chopper each year.