Eastridge keeps holidays bright with recycling drive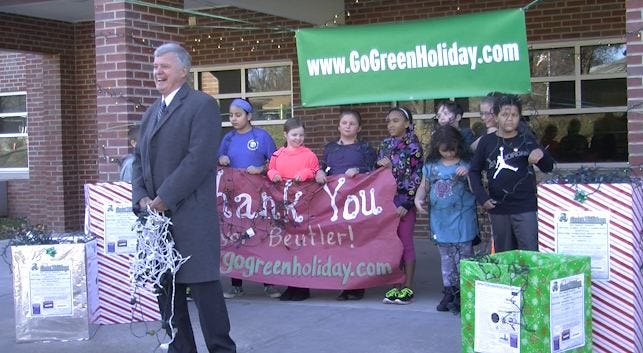 Posted By: KLKN Newsroom
8@klkntv.com
Mayor Chris Beutler today encouraged residents to recycle their unwanted holiday lights by participating in a program organized by the Eastridge Elementary Parent Teacher Organization (PTO). This is the third year the school has collected holiday lights in connection with Scrap Central Inc. of Omaha, which pays the school 20 cents per pound. The school raised $5,000 from the holiday lights drives the first two years, and the funds have been used for PTO projects, including the school's walking track.
"In its first two years, this drive has kept 10,000 pounds of holiday lights out of our City landfill," Mayor Beutler said. "In addition to helping the City, the students are learning that each of us has a role to play in protecting our environment, and the support for the walking track encourages healthy lifestyles. As the City looks for ways to increase recycling in our community, the Eastridge family has set a great example for all of us."
Holiday lights can be dropped off at Eastridge, 6245 "L" Street, all Lincoln Fire Stations and many local businesses. A complete list can be found at gogreenholiday.com. The lights will be accepted through January 4 at community locations and through January 15 at Eastridge. The lights do not have to be working, and all packaging should be removed. The PTO also donates 10 percent of all proceeds to Susan G. Komen Nebraska.
Scrap Central has also partnered with the school on two free Spring Electronics Recycling Drives and another is planned for 2016. Through the holiday lights and electronics drives, the partnership has so far diverted 23,435 pounds of material from the landfill and raised $6,870 for school projects. The Eastridge PTO received a 2014 Environmental Leadership Award from the Lincoln-Lancaster County Health Department for its efforts.
"Our PTO's Holiday Lights Recycling Drives have far exceeded my expectations," said Eastridge Elementary Principal Deb Dabbert. "This effort has not only impacted our fund-raising efforts, it has raised an awareness of the importance of recycling for our students, families and community members across the city. The proceeds from this fund-raising effort supported our walking track that is enjoyed by students and community members on a daily basis. It is exciting to see how our recycling efforts have been embraced by the entire city of Lincoln."
"I am so proud of our school and our Eastridge families and staff for their dedication to this effort," said Sian Jones-Jobst, Eastridge PTO President "Now in its third year, the Holiday Lights Recycling Drive is raising funds for projects at our school, including our walking track and natural playground. Moreover the recycling drive emphasizes to our kids here at Eastridge the importance of caring for our neighborhoods and communities. We hope that as households and businesses adopt new lighting materials such as LEDs for their holiday displays, they will remember to recycle their used products and not send them to our local landfills."
"Scrap Central prides itself on educating, supporting community partners and making recycling opportunities more accessible and successful," said Jennifer Jones, Scrap Central CEO. "The Eastridge Elementary PTO has been a wonderful partnership. It has allowed us to educate the students and community on the importance of recycling and diverting waste from landfills. I believe that through collaborative efforts like this drive, we can increase recycling participation."