Ebola virus worries local chocolate maker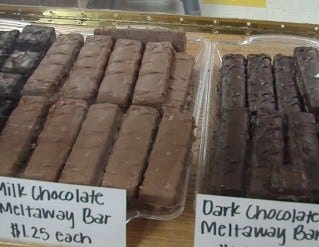 By: Bill Schammert
bschammert@klkntv.com
The deadly Ebola Virus is not only spiking fears in people concerned with their health, but it's also scaring commodities traders with a sweet tooth.
At Baker's Candies in Greenwood, Neb., business is on another record pace. However, that could slow down if the Ebola virus speeds up.
"Cocoa only grows within 10 degrees of the equator," general manager Todd Baker told us. "If you draw a line around the globe, you'll find, there's very little land mass that falls within that region."
A majority of that land mass lies in Western Africa. According to the United Nations, 51-percent of the world's supply of cocoa comes from Ghana and Ivory Coast. Those two countries are sandwiched between five nations with confirmed cases of Ebola; Senegal, Guinea, Sierra Leone, Liberia and Nigeria. Now, borders are being shut down.
"It's getting more difficult go get workers into those countries to get the crops harvested and harder to get the commodities out of thecountriess without having to pass through Ebola infected regions," Baker said.
That's what's creating fear among commodities traders, spiking the price of cocoa.
"Fear based speculation has driven the market to irrational levels."
However, Baker says he is still paying a reasonable amount for cocoa because he's locked into a commodities contract under a previous price.
"We're not prepared as to pay that price as a chocolate industry here in the U.S.," he said.
Still, Baker says he's hopeful the fear-based speculation will soon subside, meaning cocoa prices will return to normal and the price you pay for Baker's Candies chocolates will stay the same.