Update: Husker fan information for ESPN's College Gameday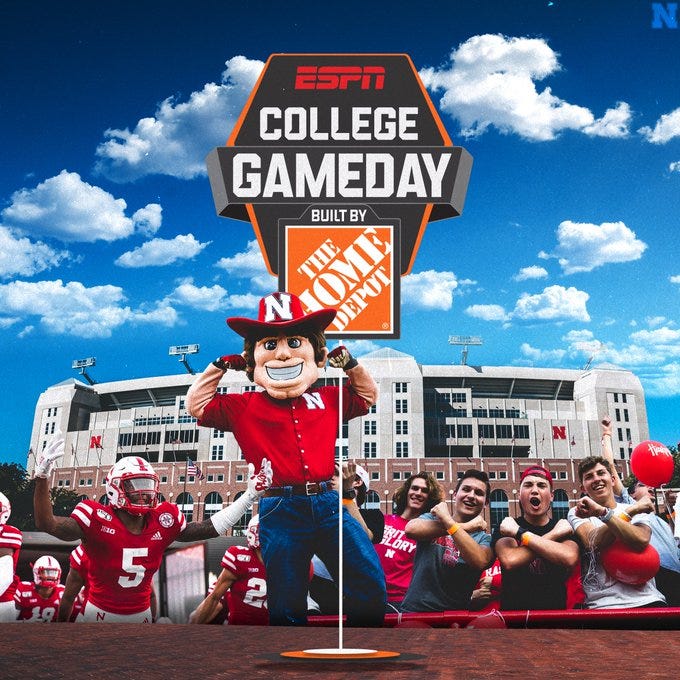 jkoller@klkntv.com
Courtesy: UNL Media Relations
The University of Nebraska will host ESPN's College GameDay on Saturday in Lincoln marking the show's first trip to Lincoln since 2007.
ESPN will originate the show on the east side of Memorial Stadium, just outside the Nebraska Coliseum, in the parking lot East of Memorial Stadium right next to 14th and Vine Streets. College GameDay will air live on Saturday morning from 8-11 a.m. CT, with live segments from Lincoln on other ESPN platforms beginning at 6 a.m.
ESPN's College Football Live will originate from Lincoln on Friday afternoon at 2 p.m. from the same location.
In order to accommodate College GameDay, Husker fans should be aware of the following parking information.
All football donor lots will open at 6:00 a.m. Saturday morning, with the exception of Lot 12. Donors with valid parking permits will have their parking permit stubbed upon entry into the lot. Donors will not be allowed to exit the lot and re-enter after having their parking permit stubbed, and should plan to park in public parking cashiered locations for a fee if planning to exit and return closer to game time.
Donors who wish to park near Memorial Stadium Saturday morning, attend ESPN's College GameDay show, and leave at the conclusion of the show, should plan to utilize public cashiered parking locations surrounding Memorial Stadium. All general public cashiered parking will be available beginning at 6:00 a.m. This includes Haymarket Park lots, the Pinnacle Bank Arena Festival Lot, and some UNL Campus Parking lots
Donors holding Lot 12 parking passes will receive direct communication from the Huskers Athletic Fund staff.
University of Nebraska students who are interested in watching the show from College GameDay's Pit will have access to that area beginning at 5:30 a.m. on Saturday. Students who enter this area will be screened and must adhere to all of ESPN's rules for being located in the pit area. No food or drink is allowed in the area, and screening will include bag checks and inspection of all signs. Sign restrictions include: no vulgar, political or religious signs. Also, signs can't promote outside brands or websites.
For fans who do not want to be part of the pit area, there will be plenty of space outside the East Stadium to enjoy the show, and come and go as they please.
More information regarding ESPN's College GameDay and related activities for the upcoming weekend will be communicated throughout the week.
Nebraska takes on Ohio State at 6:30 p.m. on Channel 8 Eyewitness News.