Excellence in Education: Literacy program increases family learning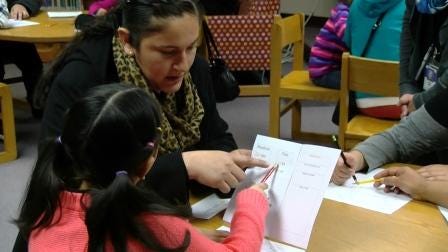 Posted By: Megan Conway
mconway@klkntv.com
A program in some Lincoln Public Schools is working to bridge the gap between the classroom and home. It's also changing lives by teaching children and parents how to speak English.
"Because of the Family Literacy and Toyota Family Learning programs, we've seen that engagement deepen, and so parents and students and families are much more inclined to let us know if there's a concern, to let us know of success, so the communication has deepened and evolved, and so we feel like we're more of a community, more of a partnership," says Michelle Suarez, Principal of Everett Elementary.
The Family Literacy Program encourages families to learn alongside their children, spanning from basic skills for every day life and more advanced ones to help them become engaged in their schools and community. LPS held their annual celebration of the program at Everett Elementary and parents shared their success stories.
"I started to study English because it's the language of my children and for self-improvement. We went to school together and they knew it was a good place to learn. I appreciate, very much, the opportunity they gave me," says Alicia Vasquez, a parent who participates in the program.
"The Family Literacy has helped us learn English, so we can help our children learn English, too. Thank you," says Almas Alhalnto, a parent who participates in the program.
"Personally, I feel more confident with my English skills and more prepared to help my son with homework," says Karla Martinez, a parent who participates in the program.
The Family Literacy Program began in 2010 and is currently in 10 Lincoln schools.